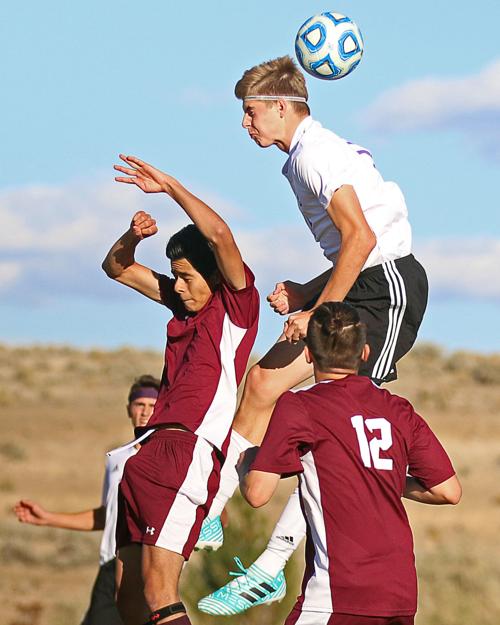 Tanner Rios, who took over in February for departed Leaf Knotts, wants the Spartans to not only adjust the way they play — he also wants them to believe.
Rios was an assistant coach for Knotts in each of the past-two seasons.
"We are going to change the way we play. I want us to handle the ball more, possess and play up front. In the past, we played back and focused on defense. I want to attack," Rios said. "I want the other teams in the league to know that Spring Creek is coming to play. I believe that if we possess the ball longer, that will make our defense stronger."
Rios hopes to change that.
"I think we're looking pretty good. They're ready I think," Rios said. "We have some younger kids, but they need to know I wouldn't have put them on varsity if I didn't think they were good enough. They just need to believe in themselves, know they belong and think they can play with anyone — including the big schools."
In December of 2018, Rios was "surprised" when he received the call to see if he wanted to take over the varsity boys program.
"I told them I'd think about it. I gave my answer in February. I knew it was a big commitment, but coaching is something I really enjoy," he said. "It amazes me to see where kids start and watch where they finish."
In 2018, the Spartans finished seventh in the Division 3A North "A" league standings with a 6-10-2 conference record — the top-five teams qualifying for the regional tournament — Spring Creek going 7-12-3 overall.
Looking to the near future, Rios hopes 219 will mark the Spartans' return to the postseason — despite a few notable absences of former players — believing the Spartans have pieces in place "to make some noise" this year.
Key Returners
Some of the best news for Spring Creek is the return of their main firepower from last season.
No Spartan did a better job of putting the ball in the net than then-junior forward Noah Rice — who scored 11 more goals than any other player on the team — draining a team-best 14 goals.
Rice booked three multi-goal games during the year, including a season-high three scores for a hat trick on Oct. 13, 2018, against Incline.
His two-goal contests came in back-to-back games on Oct. 25, 2018, and Oct. 26, 2018, against Lowry and Fallon.
With a total of 28 points, Rice led the team in scoring by 21 points.
"You can tell Noah is ready to play; he has the mindset. We're going to use him a little different this year," Rios said. "He played primarily up front last year, but I think we're going to drop him back more. He said he wants to play the '6 or 8' position this year, so I'm going to listen to him. He can attack from the midfield and his speed will help in the back."
Spring Creek will also benefit from the return of junior Jacob Rios — the coach's son — between the posts.
He has talent, agility, ability to cover a lot of range — paired with solid communication and an anticipation.
During his sophomore year, Rios made 116 saves — allowing 26 goals — but his season was cut four or five games short due to a concussion.
"They key for Jacob is to stay healthy. He has worked a lot and improved, but we have to be able to keep him out there," Rios said.
Coach Rios looks for offense from senior striker Cade Carson, who will play on top at one of the wings for the Spartans in 2019.
Last season, Carson tied for second on the roster with three goals — adding an assist.
Now a junior, Rios thinks Alex Estrada "will break out this year."
"I will play him at center-mid or on a wing. He has a beautiful touch on the ball and can put it wherever he wants, and he has great vision," Rios said. "He looks different; not as timid. He has worked out a lot over the summer and I believe he is going to take his game to the next level."
As a sophomore, Estrada tied Carson for second on the team with three goals and assisted two more.
You have free articles remaining.
Rios also hopes for contributions on the wing from senior Brandon Shields.
"He's has his moments; he's pretty good. He just needs to know he's good," Rios said.
Strength
Experience at the varsity level is invaluable, but Rios believes his relatively-young roster can become something impressive in the future — looking beyond this season.
"We definitely have more speed this year, so I want to take advantage of that," Rios said. "Most of our players are juniors, and I brought up two freshmen. We're pretty young, but that will give us time to grow. If we can get something going this year, I think we will have a great team to finish with. They will have good experience."
Weakness
At the current juncture, Spring Creek's biggest question mark will be its defense — losing three or four core cogs from last season.
"Our backline is where we need to improve the most. We only have one returner there, (senior) Brendan Anderson," Rios said. "We have been working out (junior) Patrick Pemelton there and he is looking good. He's always around the ball."
Rios said he has three of four other players to try out on the defensive line during Spring Creek's preseason tournament.
"When we go to Vegas, we will try a lot of guys back there. Hopefully, we can fix mistakes and go from there for the rest of the season," he said. "We will make our defensive line look how we want. We have a game plan for playing bigger schools and will set up in some different formations."
Key Losses
Whimple tied for the team high with five assists and scored two goals of his own, posting nine total points, which tied for second on Spring Creek's roster.
He scored three points on two occasions, each occurrence coming with one goal and an assist, doing so on Sept. 5, 2018, in a non-conference game against West Wendover and once more on Sept. 29, 2018, against Fallon.
The Spartans also graduated Samuel Claridge, who was a mainstay for the defensive backline for a number of years.
Claridge was an honorable mention for the league awards in 2018.
He routinely was the first man to the action — using both his head and his feet — winning balls out of the air.
Claridge also used rare offensive opportunities to his advantage, one directly leading to a victory.
For the season, he booked two goals and made an assist, but no shot he took impacted a contest more than his follow-up header on a corner kick in the final minutes for a 1-0 win on Sept. 25, 2018, against Lowry, in Spring Creek.
His other goal came on Sept. 5, 2018, in a non-league contest against West Wendover, and his lone assist was dished on Sept. 8, 2018, at North Tahoe.
Spring Creek lost some of its track and field speed, graduating forward Chris DeAngelo after a two-goal season — scoring his first for the Spartans' lone goal in a 3-1 loss on Sept. 8. 2018, versus North Tahoe — tacking on his last score of the year in a 4-0 victory over Lowry on Oct. 25, 2018.
He tied Whimple for the team high with five assists, dishing a season-best two during a 4-1 win on Oct. 13, 2018, against Incline.
Goals
"I think we can be right in the mix this year. We have the talent. One thing I want to accomplish is to play as a team and believe we can play with anyone," Rios said. "I want our kids to become better players, but I also want them to become better people. If we can build their character, they will accomplish more in life and become better men."
Schedule
Spring Creek will take the field for the time at 4:30 p.m. Aug. 22 against Centennial, in Las Vegas, following with a 7:30 p.m. kick on Aug. 23 versus tournament host Green Valley and closing with a 9:40 a.m. Aug. 24 contest with Silverado.
The Spartans will open league play of the Division 3A North season against perennial power Truckee at 5 p.m. Friday, Aug. 30, in Spring Creek, closing the home stand at noon Aug. 31 versus North Tahoe.