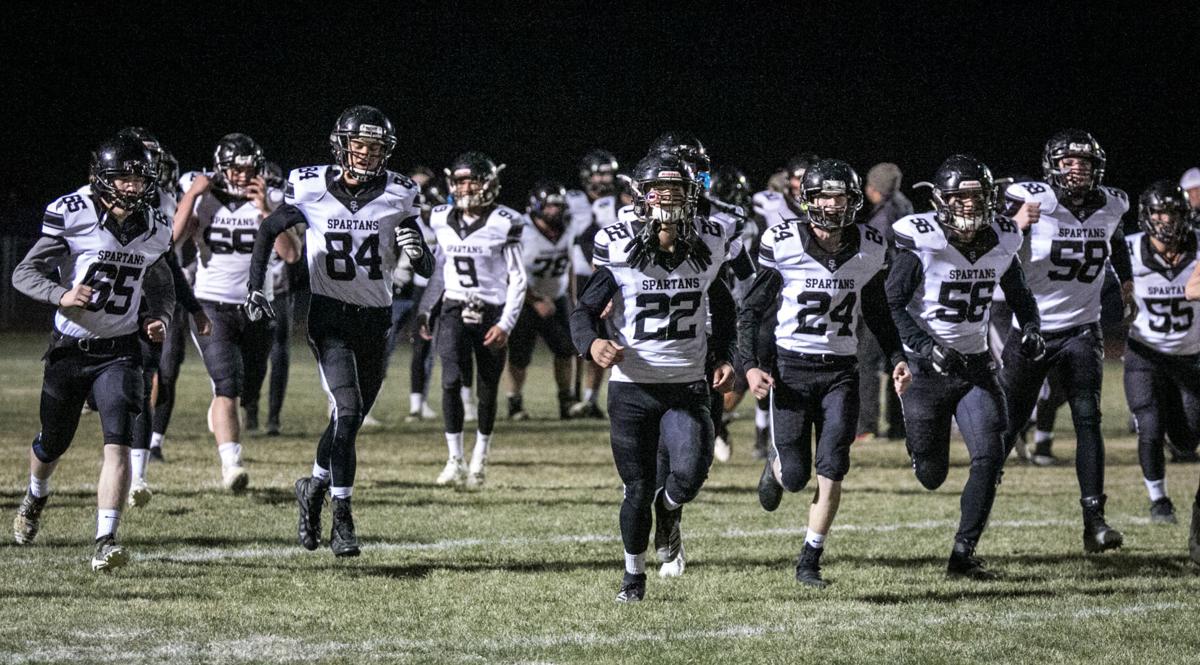 SPRING CREEK — Ding, ding. Round Two.
On Friday, the Spring Creek football team will play a second-round postseason game following a 21-7 victory on the road last week over No. 4 Lowry.
The contest will also mark Round Two between the No. 5 Spartans and the defending 3A state champions, the No. 1 Fallon Greenwave, who are 8-1 on the season and a perfect 8-0 in the Division 3A North — coming off a first-round bye in the playoffs.
Spring Creek improved to 5-5 on the year with last week's win over the Buckaroos, the Spartans also gaining a 5-4 record against league opponents after finishing the regular season 4-4 in the 3A North.
In the first meeting of the season and the Spartans' opener, the contest turned in a back-and-forth barn burner.
Fallon came out on top by a final score of 34-28 on Aug. 30, in Spring Creek, the Spartans connecting for what could have been a game-winning 65-yard touchdown pass from senior quarterback Jeff Guthrie to senior Kyle Owsley late in the fourth quarter — the TD taken off with a penalty for too many players lined up in the backfield.
Senior quarterback Elijah Jackson was nearly perfect for the Greenwave, completing 18-of-25 passes for 234 yards with four touchdowns and no interceptions.
He connected 10 times for 104 yards and three scores with senior receiver Tommy McCormick, who just committed to the University of Idaho to rejoin older brother Sean McCormick.
The bulk of Spring Creek's offensive yardage came from the legs of Guthrie, who rushed for 93 yards and a touchdown on 17 carries.
Through the air, he finished 10-for-21 for 91 yards with a touchdown and a pick.
Senior running back Reed Westwood picked up 77 yards on 21 totes, Owsley rushing three times for 12 yards and a TD.
Owsley scored twice on the night, electrifying the crowd with a 92-yard kick return to the house.
He also caught three passes for 39 yards, his third touchdown of the night and the potential game winner taken off the board due to the costly penalty.
Fallon junior receiver Matt Davis caught three passes for 75 yards, including the eventual game-winning TD.
You have free articles remaining.
Junior running back Levi Andrews carried 11 times for 56 yards, senior Brock Richardson rushing for 39 yards on seven attempts with a touchdown — catching four passes for 32 yards.
Senior linebacker Dominyke Edwards racked up a game-high 19 tackles for the Greenwave, McCormick finishing with 13 stops and intercepting a pass.
Richardson closed with nine tackles, senior Sione Otuafi and junior Julian Evans adding seven apiece.
Senior Morgan Lawry forced a fumble, the ball recovered by senior Zeke Washington.
For the Spartans, junior Zach Simms and senior Dace Draper led the way with five tackles each — half of senior Devin Holmes' four stops coming behind the line of scrimmage.
Draper recovered a fumble that was forced by junior Q Boyd, and senior Nick Ortega pounced on another fumble that was jarred loose by senior Ryan Thurston — the Spartans making two takeaways of their own.
Last Week
In the 21-7 victory over the Buckaroos, Spring Creek's offense did enough and the defense was stingy.
All of the Spartans' points came courtesy of three rushing TDs by Guthrie, who carried 18 times for 101 yards.
He completed 3-of-7 passes for 48 yards.
Due to an ankle injury to Westwood, Boyd was busy — carrying 23 times for 68 yards.
Thurston caught two balls for 31 yards, Owsley making a 17-yard reception.
Defensively, Guthrie recovered a fumble and junior Chase Milligan intercepted a pass.
Game Time
The No. 5 Spartans and the No. 1 Greenwave will kick off at 7 p.m. Friday, in Fallon, the victor advancing to the state semifinal round.