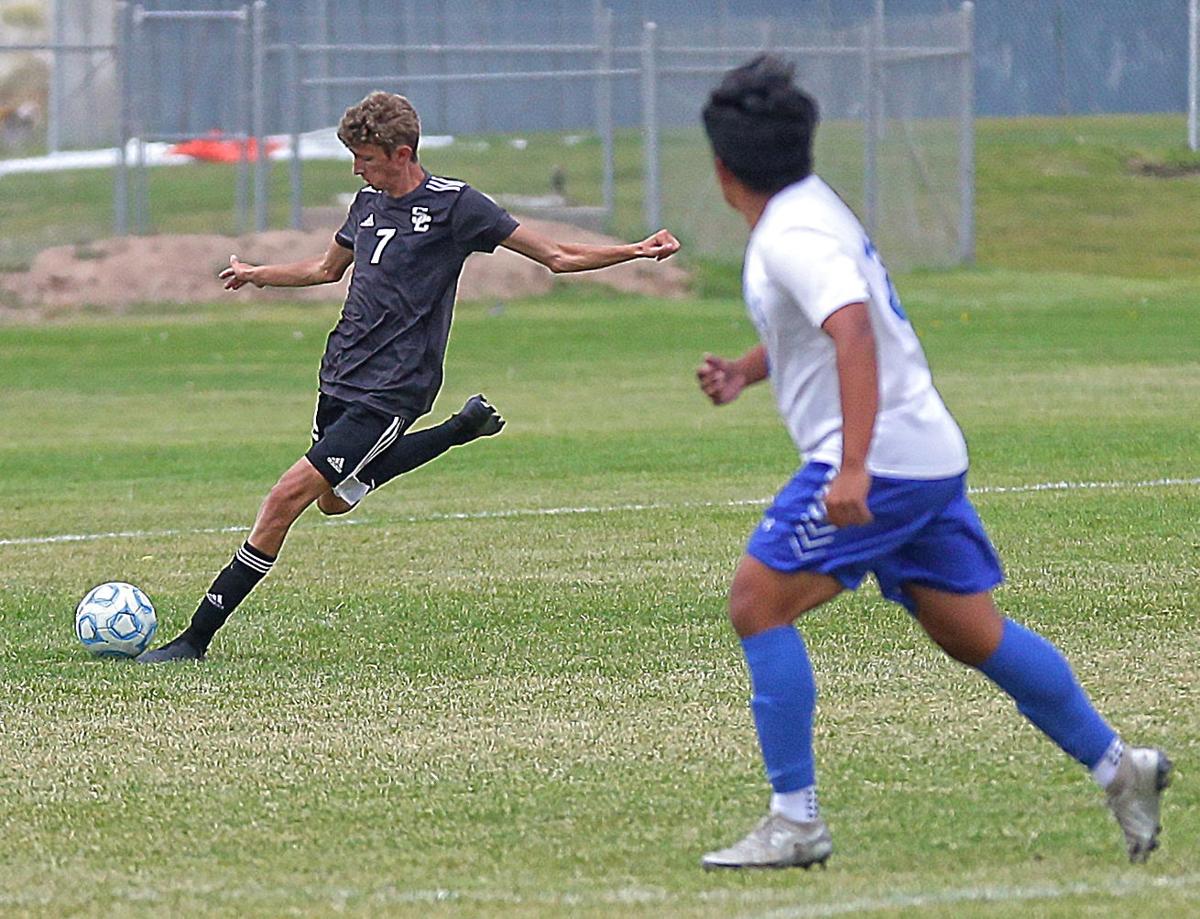 SPRING CREEK — Coming off a 10-2, mercy-rule loss Friday to Division 4A dropdown McQueen — the Spring Creek boys soccer team put forth a better effort on Saturday.
Against another 4A implant, the Spartans put up a good fight but lost to Bishop Manogue by a final score of 4-2.
"We played way better than we did Friday. We took it to them. Losing the way we did woke us up," said Spring Creek coach Forest Knotts. "Everyone had to a little reflecting, and we came out with a ball of fire."
The Miners struck first, capitalizing on a fast break by No. 32 — not listed on their roster — who beat the keeper in a one-on-one.
In the 25th minute, Bishop Manogue doubled its lead — No. 14 booting a free kick from about 25 yards.
Spring Cree climbed back into the match in similar fashion, junior Jace Henseler stepping back a bit and torching a 30-yard free kick for the Spartans' first goal.
However, the momentum was short-lived.
No. 14 scored his second goal of the contest in the 35th minute, opening a 3-1 lead for the Miners at the half.
The Spartans did not go quietly.
In the 55th minute, junior Spencer Anderson bombed a shot from near midfield — about 35 yards away — bringing Spring Creek back to within one at 3-2.
"We were pressing high, trying to get that tying goal and caught us with a counter-attack," Knotts said.
Bishop Manogue closed the show with a goal by senior Kieran McCormick in the 75th minute, essentially clinching a 4-2 win.
"I'm proud of how my young team responded. We only have a few upper classmen on the field. Most of them are freshmen and sophomores," Knotts said. "Things look promising, but we need to grow up quicker than we thought."
The Miners outshot the Spartans 16-6.
Up Next
The Spartans are scheduled to play Douglas at 3 p.m. Friday, in Minden, and close the road trip with an 11:45 a.m. Saturday boot versus South Tahoe — pending the Vikings' ability to play after its school has been shut down until this week.