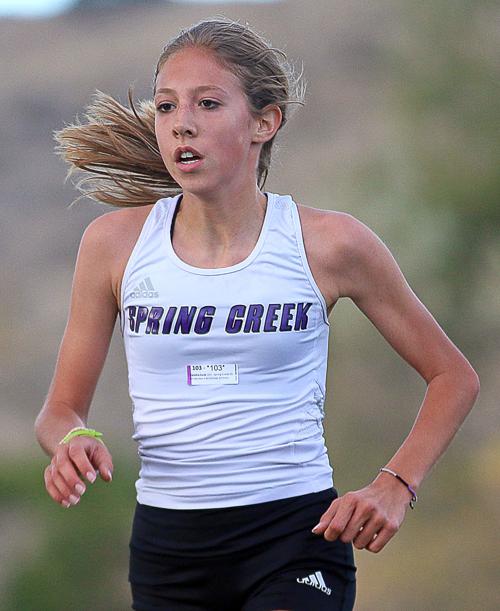 Girls
The Lady Spartans — the 2018 3A North regional champion — made sure they remained atop the leaderboard during the 3A state tournament, winning the state crown by a comfortable margin of 15 points.
Not only did Spring Creek claim the 3A girls state championship, the Lady Spartans also posted the fastest-collective time of any girls team — regardless of division — booking a spot in the Nike Cross Southwest Regional.
Of Spring Creek's seven runners from the 2018 state squad, just two graduated — the Lady Spartans reloading their power arsenal with five-returning athletes.
The No. 2 runner, Kendra Lusk, returns for just her junior year — ranking third in the state as a sophomore with a time of 20:21.9.
Spring Creek also welcomes back its No. 3 athlete from a year ago, coming in the form of senior Rosemary Little.
Little finished eighth in the state during her junior season with a time of 20:59.3, but she is dealing with an injury that forced her to miss the track and field season.
"She fractured her hip bone, the iliac (crest) and couldn't run track," said Spring Creek coach Todd Mahlke. "She is pushing herself — maybe a little too hard — to get back."
The "junior-dominated group" is aided by Emma Little, Grace Florence and Emma Campbell.
As a sophomore, Emma Little served as the Lady Spartans' fourth runner and placed 12th in the state with a time of 21:19.8.
Florence was Spring Creek's No. 6 runner and rounded at the top-15 at state in 21:25.9, Campbell capping the seven-girl roster with a 19th-place run of 21:50.7 at the state meet.
Amazingly, every girl of the Lady Spartans' team finished in the top-19.
Despite brining back five of seven athletes from the ultra-dominant team, the losses of the two graduated runners will sting.
Rylie Lusk — the most dominant girls runner in the history of the school — will run in the fall for Weber State University.
In 2018, Lusk ranked second in the state — clocking 19:50.9.
As a member of the Lady Spartans' cross country team, she knocked down three team state championships (2015, 2017 and 2018) — only missing the clean sweep in a one-point loss to Truckee in 2016 — finishing as the state runner-up individually twice (2016, 2018).
In four years of cross country, she never finished outside the top-eight at the state meet — running her way to eighth as a freshman, second as a sophomore, fourth as a junior and second once again as a senior.
She was the best runner on the best team in the region three times, Spring Creek winning three straight regional titles from 2016-2018, Lusk winning the regional championship as a sophomore and following with a third and a second.
To go along with her team successes and individual runs at both regional and state events, Lusk also etched her name into Spring Creek's annals on Oct. 5, 2018, at the Lowry Invitational, in Winnemucca.
Her 18:30 on Winnemucca Golf Course marked the fastest 5K time in school history.
The following week, she set the Elko Invitational record by 17 seconds — blistering Ruby View Golf Course — stopping the clock in 19:10.
Spring Creek's other graduate from the 2018 girls team is also a collegiate runner.
Mikkala Perchetti crossed the line at state in 13th place with a time of 21:20.3 and was the Lady Spartans' fifth-fastest runner.
Her perseverance was incredible.
You have free articles remaining.
On Jan. 16, 2017, she had surgeries on both of her hips — the joints becoming jammed with bone spurs and build-ups — electing to have the surgeries done at the same time, rather than doing one and rehabbing for three months at a pop if she had done each procedure on separate occasions.
Perchetti was forced to a wheelchair while she recovered from the procedures.
She went from wheelchair, to a riding bike, back to running with her legs.
Perchetti will run collegiately for the College of Idaho, in Caldwell, signing her letter of intent to compete in both cross country and track and field for the Lady Coyotes.
Boys
Spring Creek's boys — a year after winning the state championship in 2017 — came close to defending their state title in 2018.
The Spartans — notching 59 points — were just five points behind 2018 champ Elko, the Indians closing with 54.
However, the boys have much more to replace than the girls — both due to graduation and location.
"The boys are pretty much starting from scratch," Mahlke said. "They will be thrown into the fire right away. We have quite a bit to replace."
Of Spring Creek's top-seven runners from 2018, the Spartans will return two members for the 2019 season — losing five of their top athletes from a year ago, including their two-fastest runners.
Looking to head the attack in the upcoming season will be junior Secody Charley, who closed as the Spartans' No. 3 runner at the 2018 state meet.
Charley ranked 19th in the state with a time of 18:25.3 as a sophomore.
Now-junior Harrison Walund — who was Spring Creek's No. 4 runner last year — placed 28th at state with a time of 18:48.
Mahlke expects a couple of the glaring voids to be filled by juniors Jess Marin and Connor Gage, Spring Creek's No. 8 and No. 9 runners last season.
"They were the alternates for our top-seven varsity," he said. "Those four juniors were all in our top-nine last year."
The Spartans graduated their top-two runners in June.
George Skivington finished with a 1st-Team All-State selection after placing seventh in the state meet with a time of 17:26.2.
The coach's son, Noah Mahlke, flirted with a 1st-Team All-State run — earning a 2nd-Team All-State bid — placing ninth with a time of 17:53.7.
Logan Allen — Spring Creek's No. 4 runner last season — graduated after closing out the top-20 of the state meet, clocking 18:26.2.
Unfortunately, a would-be Spring Creek sophomore is unavailable.
After ranking as the Spartans' No. 5 runner as a freshman and finishing 24th at state, Van Williams moved to Oregon.
Spring Creek will also look to replace graduated Jacob Fisher, who placed 37th at state and capped the Spartans' roster with a time of 19:01.
Newcomers
"We have some talented freshmen who I think could crack into the lineup, they're solid runners," Mahlke said. "We have to get them up to speed and see where they finish in our 5K on Saturday."
Schedule
Spring Creek — after gaging itself against itself in Saturday's team 5K — will open the season at 3 p.m. Aug. 23 during the Douglas Class Races, at Lampe Park, in Gardnerville.