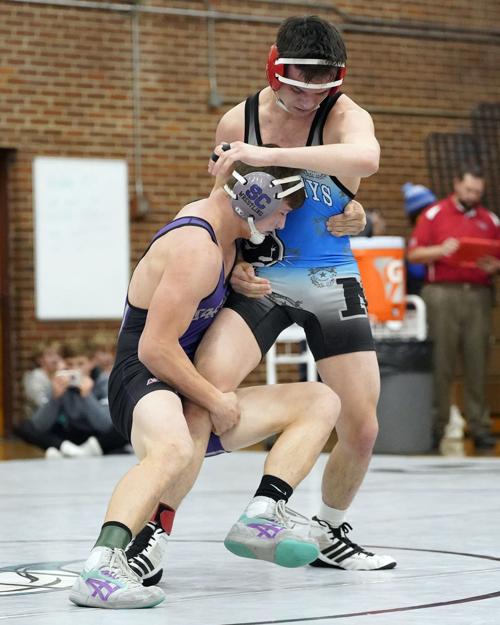 Like last season, Spring Creek qualified 18 wrestlers to the state tournament but upped its number of regional champions to nine from eight in 2019.
The Spartans scored 313.5 points — marking 310 points as a collective last year — Spring Creek besting second-place Lowry (167) by 146.5 points, the Spartans rolling to a 130.5-point cushion in 2019.
Everyone who hit the mats for the Spartans punched a ticket to the big dance, 18-for-18, and Spring Creek locked down the regional title in all but five weight classes.
Regional Champions
Spring Creek kicked off its list of regional champs early, freshman Colton Browne snagging the 106-pound title with a 3-0 record and two wins by fall.
After a bye, he pinned each of his first two opponents and claimed the championship with an 8-4 decision over Elko freshman Craig Slater.
Junior Chase Milligan knocked down the 113-pound title with a 3-0 mark and pinned every opponent he faced.
In the championship, Milligan needed just 25 seconds to pin Lowry's Angel Huerta.
Following a gap in the 120-pound division, the Spartans regained the top spot on the podium in the 126-pound class — senior Kodis Campbell posting a 3-0 record with two wins by pinfall and another by major decision.
Campbell beat Lowry's Isaac Mori in the final round by major decision with the score at 13-4.
Spring Creek went back-to-back once again in the 132-pound division.
Senior Riley Fuchs — after a first-round bye — went 3-0 with a pair of pins.
In the 132-pound final, he survived a scoreless match through three periods against Lowry's Taylor Corak — Fuchs notching a takedown for a 2-0 win in sudden victory.
From one narrow victory to another, Spring Creek won its third-consecutive weight class.
At 138 pounds, sophomore Terron Mogensen capped a 3-0 record — tallying two pins — with a 1-0 decision over Lowry's Caden Ricci in the final.
The string continued in the 145-pound division, junior Bear Browne going 4-0 with three pins.
In the championship, he needed every point in a 6-5 decision over South Tahoe's Nate Singelyn.
Junior Q Boyd gave the Spartans their fifth-straight regional champion, winning the 152-pound title with a 3-0 mark and a pair of wins by fall.
Boyd overcame North Valleys' Sean Bergsen by a final score of 6-4 with a takedown for a win in sudden victory in the quarterfinal round and pinned South Tahoe's Gavin Breen in 35 seconds in the semifinal.
In the final, Boyd took out Lowry's Cade Belly by pinfall at the 3:58 mark in the second round.
After not wrestling since the Buhl Invitational, junior Beau Chacon wasted little time in becoming the regional champion.
In the 152-pound division, Chacon was not just good enough — he was dominant.
With a 3-0 record, he tallied a win by technical fall, pinned an opponent and won the championship with a 13-1 major decision over Fernley's Jackson Chapin — capping a streak of six straight regional champs for the Spartans.
Spring Creek's final championship came in the 195-pound class, belonging to senior Jeff Guthrie.
Guthrie went 3-0 and never relied on the officials of left a decision up to debate, pining every one of his opponents.
You have free articles remaining.
In the final, he pinned Sparks' Jasper Melgar in 1:35.
Regional Runners-Up
Along with nine champions, a pair of Spartans took second place in their respective weight classes.
At 120 pounds, junior Aiden Painter went 2-1 — his lone loss coming in the championship against Elko junior Zeth Kinterknecht — who claimed the title by an 8-3 decision.
Senior Hunter Hood ranked second in the 220-pound division with a 1-1 mark.
In the semifinal, he pinned Elko junior Darin Legrand in 2:51 but dropped a 7-3 decision in the final round to Fernley's Setriano Pirrodi.
Consolation Champions
Half a dozen Spartans won the consolation brackets in their divisions.
At 106 pounds, freshman Wesley Ricaporte gave Spring Creek two state qualifiers in the class — along with Browne — posting a 3-1 record with three pins.
His lone loss came in a 4-1 decision against Slater, but Ricaporte bounced back with three-consecutive victories by fall — pinning South Tahoe's Aiden Breen at the 3:52 mark of the third-fourth match.
Senior Jacob Taylor also gave the Spartans two qualifiers in the 120-pound division — joining Painter — finishing with a 3-1 record and a in by tech fall.
Taylor's only loss came when he was pinned by Kinterknecht in 3:09, but answered with three straight victories, winning the consolation championship with a tech-fall victory over Elko sophomore Blaze Jones with the score at 15-0.
Senior Joey MacDiarmid will join Bear Browne in the 145-pound class at state, notching a 4-1 record with four wins by fall.
After losing his first match by fall in 5:58 to Singelyn, MacDiarmid pinned four opponents in a row — falling Fernley's Brandon Monteiro at the 2:28 mark in the third-fourth match.
Senior Gabe Ekanger also locked down a consolation title and will join Boyd in the 152-pound state tourney.
Ekanger was pinned by Bell in 3:26 but closed with three straight victories — two by fall — and claimed the third-place match with a narrow, 8-7 decision over North Valleys' Isaiah McLain.
Sophomore Shawn Lortie took third in the 170-pound division, posting a 3-1 record with a pair of wins by pinfall.
After pinning Elko's Braedon Swaffield in 47 seconds, Lortie dropped an 8-2 decision to Sparks' Tyler Green.
Lortie then needed just 17 seconds to pin Dayton's Joshua Buen and blanked Fernley's John Owens by a tally of 7-0 in the consolation final.
Sophomore Keefer Campbell went 3-1 with two wins by fall, losing his second match by fall in 1:09.
He closed the tournament with back-to-back victories, winning the consolation final with an 8-2 decision over Fernley's Nathan Glass.
Fourth-Place Qualifier
Senior Nick Ortega finished an even 2-2 with a pair of pins in the 285-pound division.
He opened with a fall victory over Elko senior Gabe Lozano in 4:23 but dropped an 8-4 tiebreaker to Fernley's Alec Carr.
Ortega won his third match by fall in 4:12 against Fernley's Tyler Back but lost in sudden victory with the score at 3-1 versus Lozano in the third-fourth match — Lozano avenging the loss to Ortega for the consolation title.
State Tournament
The Division 3A Nevada State Wrestling Championships will kick off at 4 p.m. Friday, at Virgin Valley High School, in Mesquite, day two action starting at 9:30 a.m. Saturday.