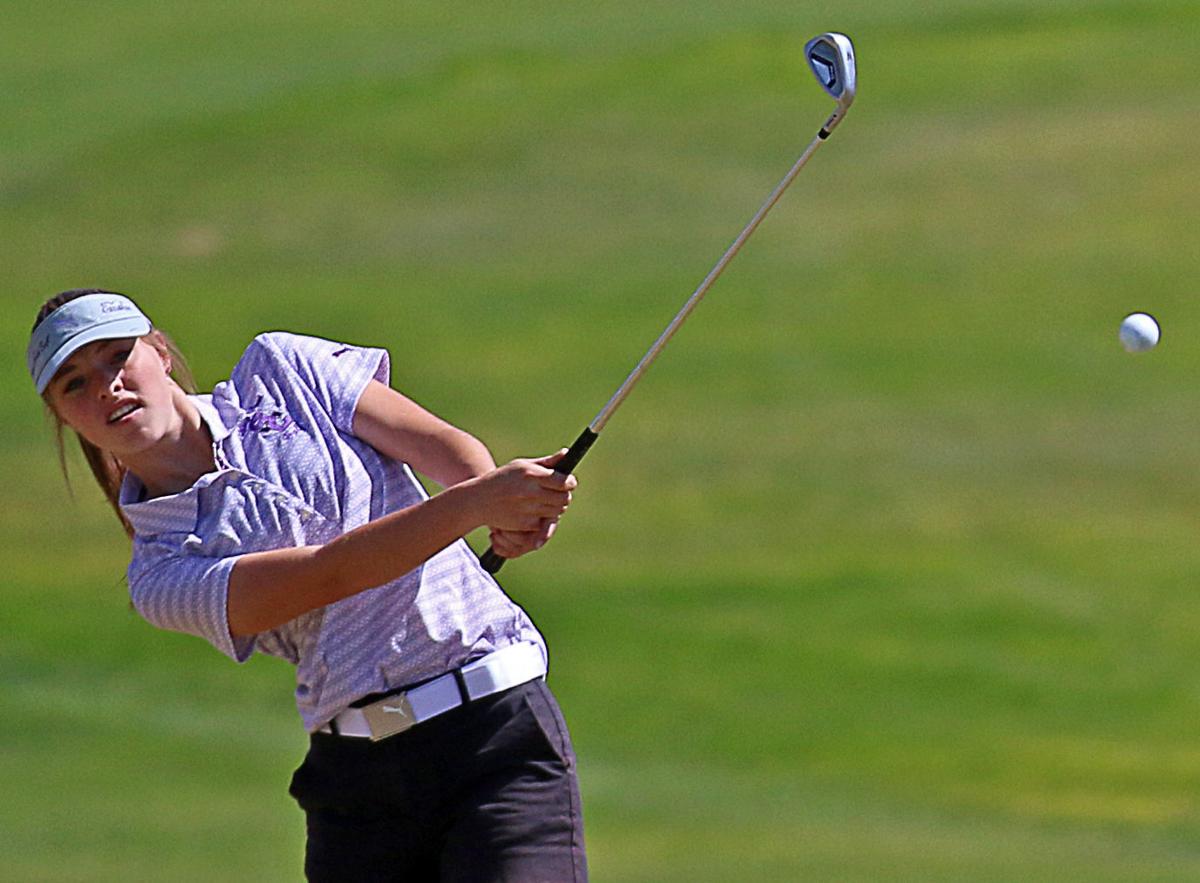 Head coach Don Smales has stepped down, leaving the door open for Kage Walker to take the helm.
Walker has a familiarity with a number of the girls in the program, serving the 2018 season as an assistant coach and leading the junior varsity team.
The bunch he receives will look fairly new — as the Lady Spartans' 2018 roster was mainly made up of girls who were in the program since their freshmen years before graduating in June — Spring Creek bringing back five seniors for the '19 campaign, only two who played varsity last season.
"We are pretty young and inexperienced, but we have good numbers," Walker said. "Right now, 14 girls are cleared to play and one more is in the process of getting cleared."
Returning
The good news for the Lady Spartans is the return of senior Emalee Ingram, who has been a mainstay for Spring Creek since her freshman year.
In 2018, Ingram gave the Lady Spartans their only 1st-Team All-League performer, rounding out the selections with an average of 100.9 strokes per round.
Her best finish came on a third-place tie with a score of 96 in South Tahoe, shooting her season-best round of 90, in Fernley, which was one stroke from her career best of 89 from her sophomore year.
At the state tournament, Ingram narrowly missed out on a 2nd-Team All-State honor by one stroke — finishing 13th — tying for Spring Creek's best score with a two-day tally of 194 on rounds of 95 and 99.
The second and final player from the Lady Spartans' varsity roster last season is now-senior Rachel Merwin.
In 2018, Merwin carded her personal bests in consecutive tournaments — besting her 108 from Fallon with a 106 in Fernley.
Her 106 in Fernley was the first time her score cracked into the top-four of the Lady Spartans' qualifying scorers.
She has state experience, finishing 38th in the 2018 tourney with a two-round total of 256 — posting a 135 in round one but dropping 14 strokes for a 121 on day two.
Newcomers
Senior Marie Howard will get her first taste of possible varsity action after playing on the JV.
Senior Candace Halcrow did not play for Spring Creek in 2018, but she was on the 2017 team and competed in a healthy number of varsity tournaments.
Halcrow booked her best score of the 2017 season twice, shooting 105 on the difficult Dayton course — the home of Walker — and duplicating the number in the league finale during Lowry's tournament in Winnemucca.
Spring Creek's fifth and final senior, Shelby Millard, has never played competitive golf at the high school level.
Of the Lady Spartans' 14 golfers who are cleared to compete, nine are sophomores — eight of whom are new to the program with no high school experience.
"We don't have any freshmen, but we have a ton of sophomores," Walker said. "Only of the sophomores played on the JV last year, Jaedin Martinez. She has the potential to get a varsity spot."
You have free articles remaining.
In fact, Martinez competed in two varsity tournaments last year as a freshman — shooting a 134 in South Tahoe and marking her varsity-best total of 118 with a 16-stroke improvement at Truckee.
"The other sophomores have no experience. I've only seen them play this week, but they definitely have some athletic ability," Walker said. "My dad is my assistant coach and he recruited some of them from his high school classes."
Rick Walker — the former Dayton boys and girls coach — started teaching sports medicine and health in the spring of 2019 at Spring Creek High School.
Key Losses
Opposite of Elko — which brings back four of its six state golfers — Spring Creek graduated four of its top-six from the 2018 state roster.
Like Ingram, graduated Elise Thiesen was one stroke from a 2nd-Team All-State nod — tying for 13th individually — posting a two-round tally of 194 with cards of 98 and 96.
She was a 2nd-Team All-North golfer in 2018, averaging 102.6 strokes per round.
Graduated Courtney Tournahu was also a 2nd-Team All-League performer last season, following Thiesen with an average round of 104.5 strokes.
At state, Tournahu was hot on the heels of Ingram and Thiesen — rounding out the top-15 — shooting rounds of 99 and 96 for a two-day total of 195.
Graduated Caitlyn Kay ranked 29th at state with a two-round card of 229 on scores of 117 and 112.
During the state tournament, graduated Aintzane Alt was forced to withdraw in the second round because of the flu.
In round one, she posted a 111.
Strength
"Especially from what I saw last year, I think the strength of our team is that the girls practice with a purpose. They don't just show up because they have to," Walker said. "They really care about what they do and want to get better every day."
Weakness
With so many new faces on the course — numerous with little to no experience — Walker said the area the Lady Spartans need to increase is the belief in themselves.
"We have to build confidence in their abilities," he said. "That comes from hitting balls. If they think they can hit the ball, they will do so."
Schedule
Spring Creek was set to qualify their top-six for the Icebreaker Tournament — playing Elko and Lowry at 10 a.m. Tuesday, at Winnemucca Golf Course — with a competitive practice round Friday.
"We are going to prequalify for every tournament. Our top-six will play that week in the varsity tournament," Walker said. "We are going to do the JV tournaments a little different and rotate the rosters. We want to make sure everyone gets some experience of playing and build toward next year."
The Lady Spartans will host the first Division 3A North tournament of the season, teeing off at 9 a.m. Sept. 3, at Spring Creek Golf Course.