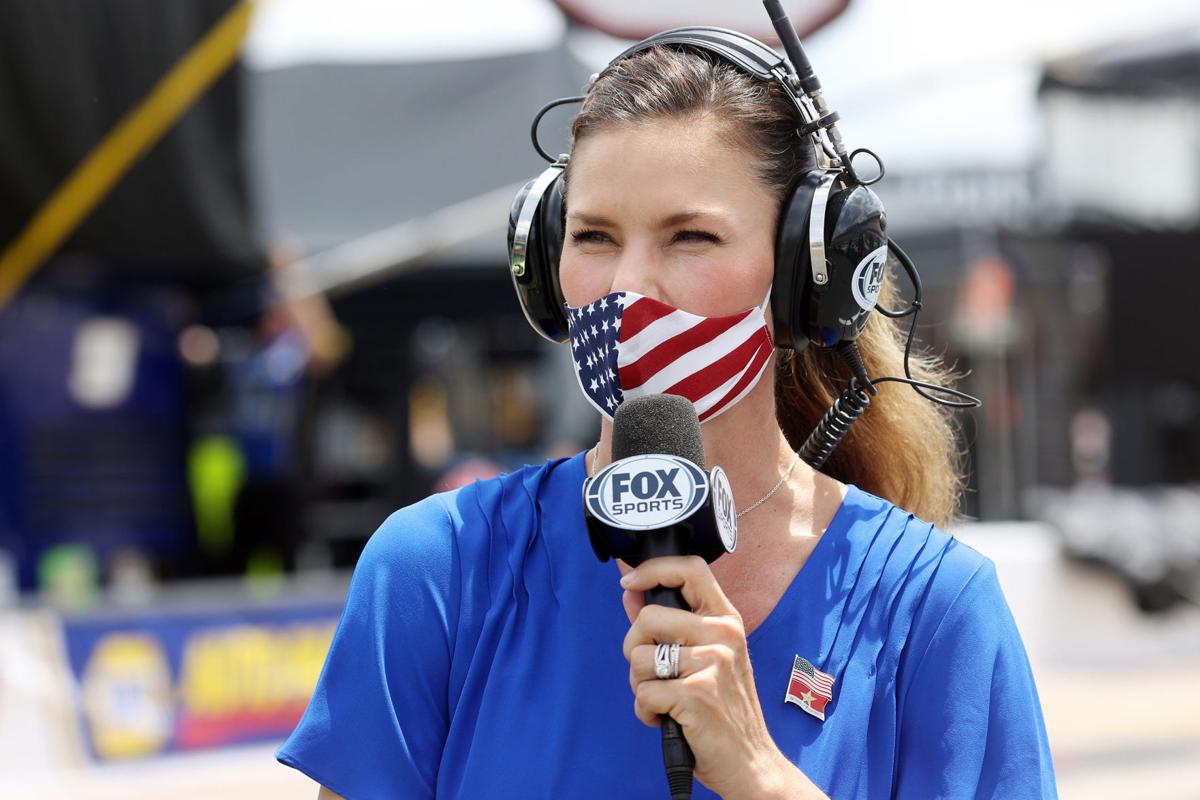 Sooner or later, sports fans will start drifting back to attending live sports events. How will it be different?
Don't expect to interact with a ticket-taker anymore. Ordering food and drinks will almost universally involve a phone app, rather than lines at concession stands. You will take prescribed paths to and from your seat to avoid walking shoulder-to-shoulder with strangers.
And absolutely, you will wear a mask there, at least for the foreseeable future.
"Once we start opening up (spectator sports), you're gonna have to wear a mask for a while. Just do it," said Patty Olinger, executive director of the Global Biorisk Advisory Council.
"There's that statement, 'No shirt, no shoes, no service.' We may have to add in there for a while, 'No shirt, no shoes, no mask, no service.' "
Olinger's organization reviews and accredits cleaning protocols for major public venues, such as arenas, stadiums, convention centers and hotel chains. Spectrum Center, owned by the city of Charlotte and operated by the Charlotte Hornets, is among the many using that organization's program. So are the NFL's Miami Dolphins and Philadelphia Eagles.
The COVID-19 pandemic shut down sports in mid-March. Now, leagues are slowly returning; NASCAR and the PGA Tour have held events in the Carolinas.
A prime example of how COVID-19 has and will change the fan experience: Texas Motor Speedway sent a form to ticketholders for the July 19 NASCAR race that outlines protocols (temperature check, health questionnaire, masks encouraged) and requires a waiver that fans acknowledge the risk of contracting the coronavirus by attending the race.
The NBA and Major League Baseball have plans to resume that initially will not include fans in the stands. The NFL and college football are still wrestling with whether their seasons this fall can include fans in attendance, and to what extent social distancing would limit that.
Carolina Panthers owner David Tepper said on CNBC in May he anticipates at least some fans at Bank of America Stadium this season.
"You won't be having full stadiums. but that doesn't mean you can't have some fans in the stadium, either," he said.
The Panthers declined an interview request on the topic of fans returning to games, saying their plan is still being formulated. The NFL plans to tarp off the rows closest to the field in each stadium to create additional distance between fans and the players.
The Observer interviewed several Charlotte sports executives and hygiene expert Olinger on what it will take for fans to feel comfortable returning to games. The consensus: This is about detailed change, but it's also about showing the public in a prominent way that safety from infection is the top concern.
As states slowly phase out stay-at-home orders, it's imperative teams and leagues address the inhibitions many fans will feel about returning to large gatherings. As Dan Rajkowski, chief operating officer of the minor-league baseball Charlotte Knights, said, "Going to the grocery store is a necessity. Going to the ballpark is not a necessity."
As most sports take their first tentative steps to again staging events, NASCAR's top series has already held 10 races over the past month, including a race at Talladega Superspeedway that had about 5,000 fans in the stands. The All-Star Race on July 15, moved to Bristol, Tenn., from Charlotte Motor Speedway, will allow up to 30,000 in the stands.
What has NASCAR learned that other sports can emulate?
"It's not that hard," said Charlotte Motor Speedway executive vice president Greg Walter. "We are over-thinking it. It's common sense. It's attention to detail. But it's really not that hard."
Walter's point: While every procedure - from how fans enter and leave a stadium, to where they sit, to how they use bathrooms or get food and beverages - must be reviewed, changing procedures isn't insurmountably complex. It's satisfying customers' concerns, scrutinizing practices and showing a commitment to avoid getting people sick.
In his 20th year with Speedway Motorsports, LLC, (which runs CMS, Bristol, Texas and five other tracks), Walter said sports faced a similar challenge following the Sept. 11 terrorist attacks in 2001.
"After 9/11, there were lots of visual cues that we had to give our guests to make them feel safe: Enhanced security, bag checks, the presence of tactical teams," Walter said.
"When fans begin to come back, those same kind of visual cues are going to have to exist. Is the venue - this entertainment opportunity - taking my health seriously?"
Walter said it's now imperative, for instance, to make sure soap dispensers don't run empty during race weekends. Other changes are more complicated, like how to avoid making 500 people stand shoulder-to-shoulder waiting for a parking tram after a race. Some traditional amenities - like pit passes allowing fans to mingle with race teams in the infield - aren't practical right now.
Walter mentioned that one of the most popular aspects of pro sports, premium seating, must be rethought: The buffets that are typical for club seating at a game or race, or the hospitality tents at golf tournaments, will be problematic. That sort of party doesn't work in a time of social distancing.
Ticketing - figuring out who can sit where, and how close to whom - becomes a Rubik's Cube problem, where a maximum 50% capacity might in practice be closer to 30 percent.
"If I have a family of two, then a family of four, then a group of 10, that 10 can be together, that two can be together, that four can be together. But by the time I space them out (six feet of distance between groups), that may be 30 percent," Walter described.
Convincing fans it will be safe to return is about listening as much as doing.
The NBA used its teams' email lists to recently survey fans about COVID-19, and the importance of various precautions when arenas reopen to the public. The 10-question survey asked about everything from entry and exit, acceptable bathroom wait times and cashless transactions, to how long in the future would it take to be comfortable attending games.
Jim Kahler, executive director of Ohio University's Center of Sports Administration, said those surveys, which NASCAR also conducted, serve dual purposes.
"They're going to collect data," said Kahler, a former Cleveland Cavaliers executive. "It's also going to show the world they care, that they are turning every stone they can to bring (sports) back."
Walter said it's important not to presume a public consensus regarding COVID-19. Some fans feel so cooped up after months of stay-at-home orders that they will sprint to live events. Others will be wary of crowds for months - maybe years - even while wearing a mask.
Assessing risk "might be very different to a grandparent, as opposed to someone just out of college," Walter said.
Variances in venue matter, too. A race track, with 100,000-some seats, makes it easier to space out customers. Public-health experts told The New York Times that being outdoors is generally safer because the virus can dissipate more quickly in a breeze, without ceilings and walls trapping in air.
Indoor venues, such as Spectrum Center and UNC Charlotte's Halton Arena, have more challenges when they reopen to public events.
Olinger said arenas are different from stadiums, not just because of the indoor settings, but because they are multi-purpose. Spectrum Center hosted more than 100 events over the past year, often on back-to-back nights. Cleaning for a new audience has to be quick and efficient.
Formerly an environmental health expert with Emory University, Olinger says it's key that arenas reassess not only how they clean, but what they use. "Clean" does not automatically mean disinfected.
"For years and years, we've been cleaning for aesthetics: 'Does it smell nice? Does it smell pretty?' We really need to be looking at removing pathogens - hygienic cleaning," Olinger said.
Hornets president Fred Whitfield had a special urgency in dealing with these issues because the Republican National Convention was scheduled for Spectrum Center in August. (The major speeches of the RNC are now scheduled for Jacksonville, Fla.)
Whitfield said he has two different accrediting agencies reviewing Spectrum Center cleaning procedures. Everything about the fan experience in the building will be reviewed, even condiments: The Hornets will do away with pump bottles of ketchup and mustard, switching to individual packets, to reduce possible infection transmission.
Charlotte athletic director Mike Hill said 49ers fans will see plenty of differences at football and basketball games to promote safety from the virus. Asked about the college football tradition of tailgating, Hill made the point that it's also on fans to take a share of personal responsibility.
Hill echoed Olinger's imperative that masks must become standard for now; not only for attending football games, but also for preserving the chance a football season even happens.
"Right now, fans must understand that unless they actively participate in helping to get this (virus) under control, it jeopardizes sports," Hill said.
"If we want sports to return - if we want life to return to some sense of normalcy - people must wear face coverings."
Concerned about COVID-19?
Sign up now to get the most recent coronavirus headlines and other important local and national news sent to your email inbox daily.