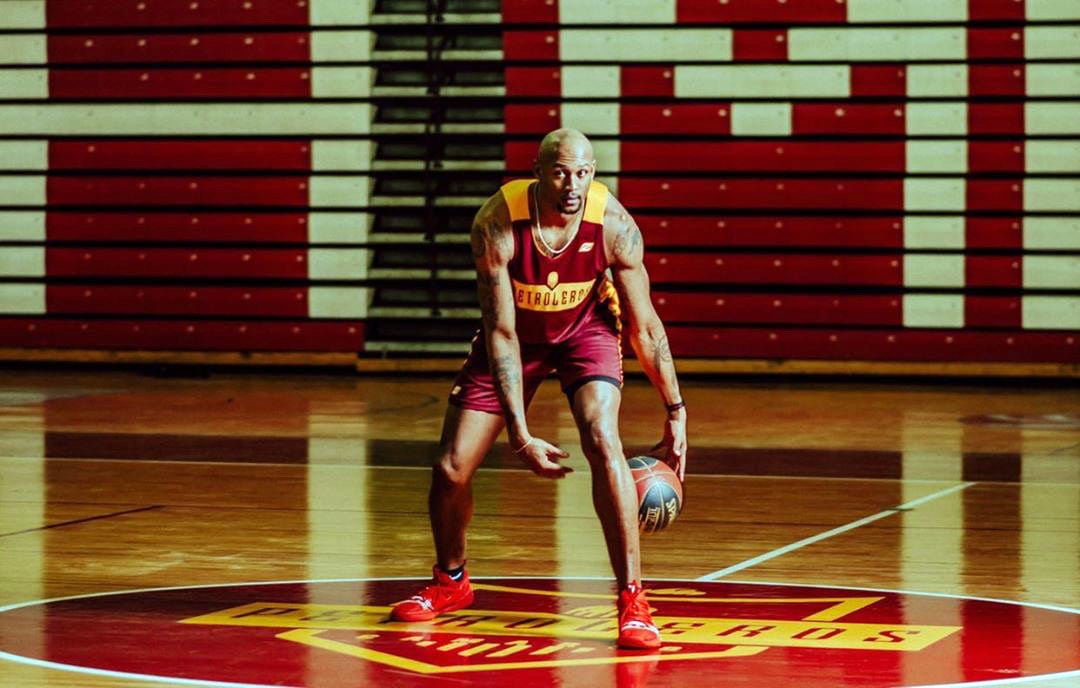 ELKO — College basketball fans from Elko County — despite their ties to the University of Nevada — likely saw more of University of New Mexico star J.R. Giddens during the 2006-2007 and 2007-2008 seasons than Wolf Pack hoops.
Then, The Mnt. — part of the MountainWest Sports Network — was a staple of local cable television for those who did not have satellite-dish coverage.
Nevada was then still part of the Western Athletic Conference, but UNLV, Utah, BYU and New Mexico were often shown on the tube — Giddens routinely lighting up opposing defenses, backboards and posterizing dunks on Elko TVs.
Despite his heroics for the Lobos, Giddens' story began long before he set foot onto the hardwood of The Pit, in Albuquerque.
He's had plenty of highs, a number of lows, achieved some things athletes only dream of, built a professional career doing what he loves and learned from a multitude of mistakes — trying to improve his character and his game along his journey — something he hopes culminates into a coaching career at UNM while building youth and young athletes into upstanding people.
High School
Giddens' prep days began at Yukon High School, in Yukon, Oklahoma, which is about 17 miles from downtown Oklahoma City.
Despite his accolades across a variety of sports — actually "better in football, baseball and track" — Giddens did not like his surroundings.
"It was an all-white school, the high school where Garth Brooks graduated from. I didn't fit in there. The few black athletes didn't have a chance," Giddens said. "They never acknowledged my 6-(foot)-10-(inch) high jump record as a sophomore. I led the team in scoring, but I came off the bench. I outscored three of our starting-five combined. I knew I had to get out."
Giddens transferred to John Marshall High School, in Oklahoma City, for his junior and senior years.
"Tommy Griffin — Blake Griffin and Taylor Griffin's dad — used to be the coach at John Marshall, but he wouldn't let his kids go there," Giddens said. "It was tough, we had to go through metal detectors and it was a typical inner-city school. But I got to play minutes there, and I got noticed."
Giddens verbally committed early, choosing the University of Kansas over the University of Oklahoma.
"I knew (former OU coach) Kelvin Sampson my whole life. His son was my age. OU went to the Final Four in 2002, but Kansas made back-to-back Final Fours (2002, 2003)," Giddens said. "I wanted to play for (former Kansas and current North Carolina coach) Roy Williams. I committed to him when I was a junior. Roy went to North Carolina before I got there, but Bill Self is a great coach too. Plus, Roy looked good in that Carolina Blue and he's sharp with silver-fox hair."
Giddens was named a McDonald's High School All-American during his senior season at John Marshall, playing in the annual preps showcase at Gund Arena, in Cleveland, along with some notable firepower — including LeBron James.
"The game was crazy, especially since it was in Cleveland and Bron was there. He was a full-grown man already, but the game had so much talent. It was a great class," he said. "There were guys like Chris Paul, Luol Deng, Charlie Villanueva, Kendrick Perkins."
The game also included Travis Outlaw, Brandon Bass, Von Wafer, Shannon Brown, Aaron Brooks, Kris Humphries and Reno High's David Padgett — who played for with Giddens at Kansas (2003-2004) and for Louisville (2005-2008) before coming the Cardinals' interim head coach for the 2017-2018 season.
Collegiate Career at Kansas
Giddens wasted no time becoming an impact player for the Jayhawks as a true freshman.
He averaged 11.3 points and 3.6 rebounds en route to earning All-Big 12 Conference Freshman honors.
"We had a good season, but we lost to Georgia Tech in the Elite Eight (79-71 in overtime)," he said. "They had Jarret Jack, B.J. Elder, Marvin Lewis and Isma'Il Muhammad."
During the 2004-2005 season, Giddens battled an injury but still managed averages of 10.1 points, 3.8 rebounds and 1.4 assists.
"I had surgery on my knee and my ankle, so I didn't even really have a summer," he said. "I didn't get hardly any reps in the preseason."
"We had a great team. Wayne Simien was a first-round draft pick, Aaron Miles was one of the best point guards in the country and Keith Langford is probably the best basketball player that never made it to the NBA," Giddens said.
However, the Jayhawks were on the wrong side of one of the biggest upsets in the history of the NCAA Tournament — No. 3 Kansas falling to 14-seed Bucknell 64-63 in the first round.
Stabbing Incident
In May 2005, Giddens was involved with an altercation that forever changed his life and his basketball career.
"We were at a club and I got stabbed. A guy tried fighting me a few times and got kicked out, but he was waiting outside," Giddens said. "He came at me and I took him to the ground, but he stabbed me in the leg. I was rushed to surgery. There was so much blood. He severed my soleus, hit an artery and slashed my Achilles. When I was bleeding out, I was in shock but I remember that my blood was like syrup. Looking back, it is scarier now than in the moment. I could have died."
Legally, Giddens was found guilty of battery and sentenced to a year of probation.
"I want to show that's how we are treated. The guy tried fighting me, I defended myself, he stabbed me with a knife and I was the one who got in the most trouble," Giddens said. "I know I probably shouldn't have put myself in that situation, but I was a young college kid and made a mistake being at the bar and getting into a fight."
New Mexico Transfer
Following the bar incident, Giddens and Kansas "decided to part ways."
"I have no ill-will toward Kansas but that hurt me," Giddens said. "They (doctors) told me I may walk with a limp for the rest of my life, and my basketball career was in jeopardy. God got me through that. Kansas won the national championship in 2008. It was bitter-sweet, because I knew or played with a lot of those guys and that was the same year I got drafted."
Needing a new school and time to rehab his injuries, then-New Mexico head coach Ritchie McKay came calling, saying he believed Giddens was "wrongly portrayed."
"New Mexico told me that I if I transferred that I would have to sit out a year, which gave me time to heal up and get back in shape," Giddens said.
New Mexico Career
After sitting out the 2005-2006 season, Giddens emerged as an elite player for the Lobos during his junior year (2006-2007).
In 26 games, he averaged 15.8 points, 6.5 rebounds and 2.3 assists.
Although, New Mexico struggled as a team — finishing 15-17 overall and 4-12 in the Mountain West (ninth in the conference) — and McKay was fired in February of 2007.
"I started off on fire my junior year, but then I hurt my ankle," Giddens said. "We lost a lot games that year, but we got them back my senior year."
Enter Steve Alford — the current Nevada coach — who won the 1987 national championship as a player with Indiana under Hall of Fame coach Bob Knight.
"Alford was a great coach — more about defense — and (assistant coach Craig) Neal was all about offense. They were a good fit together. They kept us motivated to win games," Giddens said. "We went from last in the conference to third. It was a tough league. BYU won the regular-season title and UNLV won the conference tournament when Lon Kruger was their head coach."
Individually, Giddens' play and his leadership paid dividends for himself and his team.
He was the main reason for the Lobos' improvement to a 24-9 overall record and an 11-5 mark in the Mountain West.
Giddens was named the Mountain West Conference Player of the Year after averaging career highs of 16.3 points, 8.8 rebounds, 3.1 assists, 1.4 steals and 1.2 blocks.
His performances sparked what would lead to his and most hoopers' dream.
NBA Draft
Giddens was selected 30th overall in the first round of the 2008 NBA Draft by the Boston Celtics, who were just 10 days removed from their six-game victory over the Los Angeles Lakers in the NBA Finals.
"It was bananas. To hear my name called was a dream come true, and to go to the Celtics was crazy," Giddens said. "My first team in the NBA had some of the best players to ever play the game. I was joining guys like KG (Kevin Garnett), Ray Allen, Paul Pierce, (Rajon) Rondo and Stephon Marbury."
NBA Career
While Giddens was talented and ultra-athletic, he stepped into a situation among all-time greats who already knew the system of head coach Doc Rivers.
"I'm not a Doc fan at all. If we ran 55 plays in practice, I might get four or five. It was hard to find a rhythm when I was always coming off the floor or only seeing it for a play or two at a time," he said. "He just never game me a chance. I could jump out of the gym, dunk from the free-throw line and wear out guys in one-on-one. I heard Danny Ainge (two-time NBA champion and current general manager and President of Basketball Operations of the Celtics) telling Doc to play me more, but he didn't listen."
As a rookie, Giddens played just 1.3 minutes per game.
Giddens recalled a time when Brian Scalabrine was "so hurt he could barely walk" and that "Scal never even came out of the tunnel until starting lineups."
"I was like OK, coach. I'm here, I'm young and I'm fresh," Giddens said. "When Scal came out, Doc put me on the bench and played him when he couldn't even move."
Giddens said he thought Rivers didn't like his "swag" but noted that River's son, Austin, had plenty of swag of his own.
"You saw him when he was in high school and at Duke. He was cocky, but that's OK when he's your son," Giddens said. "Doc saved his kid's career, and everybody knows that. He grew up privileged, and I played hungry."
Giddens also explained that the often-told rumors of Garnett's intensity are true, saying "he's the most intense guy I've ever played with."
"We were playing Cleveland, and they threw LeBron an alley oop but the pass was low. He reached down between his legs and smashed a reverse dunk with two hands. It blew my mind. I jumped off the bench and cheered, and KG looked at me and told me to 'sit my ass down,'" he said. "Right after I was drafted, I signed with Nike. They gave me a bunch of gear and put in a locker. KG came in through his side entrance, and I was so excited. When I went back into the locker room, all my stuff was in the trash. He flipped out on me for putting my stuff in his locker. I didn't know it was his; it was the worst shit ever that my hero was so mad at me. My feelings were hurt, but he's a great guy when you get to know him. He saw me busting my ass in practice and we became close. He saw me outside at my car one time and gave me like $9,000 of Louis (Vitton) stuff — a bag, a backpack and a scarf. When you become one of his guys, he takes care of you."
In his second season with the Celtics, Boston added four-time All-Star and 2004 NBA champion (with the Detroit Pistons) Rasheed Wallace, making it even tougher to compete for minutes.
"In that system, you have to get a feel for what to do on the wing. Whatever the wing did on the other side, I had to do the opposite. I'd give up a three, and I'd get sent to the bench," Giddens said. "I had to learn from a DVD, because I'd never get to run through most of the plays. Doc would tell me 'don't' shoot, don't take a three, play D and go to the hole.' It was hard to get by someone when they know you can't take a shot, you can't pump fake. It's hard to make a move when the defender knows what's coming."
Giddens was sent to the D-League, where he averaged 18 points per game.
He went up for a dunk, got flipped and tore his meniscus in his knee.
"The Celtics traded me to the Knicks and six weeks after tearing my knee, I was back on the floor and playing the Celtics," he said. "It sucked though; there were only 25 games left in the season when I joined the team and I only got to play in 11 after I got healthy."
With New York, Giddens saw a jump in playing time and production, averaging 4.1 points in 12.7 minutes.
The 2009-2010 season — his second in the league — served as Giddens' last in the NBA.
Overseas Career
Since 2010, Giddens has played a decade of basketball virtually all over the globe for more than 20 teams.
"I've played all over the EuroLeague and FIBA," he said. "I think a lot of my experiences can help younger players, and I want to show them the ropes. I've played in Poland, Spain, Greece, Italy, Israel, Argentina, Uruguay, Mexico, the Dominican Republic, Puerto Rico."
Giddens said his first stop out of the states was in Poland, and he hated it.
"There was racism everywhere. I had to act a certain way. They held me back. Bobby Brown and I were on the team just to keep it going, but they released him," he said. "It was cold as hell, there was a big language barrier and they took a lot of money from me."
Speaking of money, Giddens said when a team was winning that payments were prompt and regular but oftentimes the opposite was true due to losing games or with certain franchises.
"On an Italian team, we never lost a game for two and half months. We lost in the championship, but winning was fun and the checks were on time," he said. "Some teams, you'd make $50K in a month and the next month would only be $25K. After three months, they'd owe you $75,000. You'd have to show up and act like nothing is wrong. When you'd ask them about your money, all you would hear was 'manana.'"
He also said he had to spend 30,000 Euros to earn a six-figure contract, which took him three years to get all his money from FIBA.
Giddens said he "picked up some tricks" and would sit out or threaten to sit out games, and he'd "get paid" the next day.
"I had lessons to learn and lived through them," he said. "I could teach a lot of guys what is expected of them, how to manage their money, which teams and what leagues are the best to play for and how to put themselves in better situations."
Future Basketball Plans
"I'm 35 years old, but I think I still have a couple good years under my belt. I don't want to play 40 minutes a game anymore. We'll take it day-by-day," Giddens said. "I'm trying to back to Europe, and play my role. I've been playing in the Dominican Republic — where we just won a championship — and in Mexico. I'm about 80-percent fluent in Spanish."
Currently
Despite growing up in Oklahoma City, Giddens and his life partner, Robin, live near his UNM stomping grounds of Albuquerque, in Rio Rancho, when he is not playing ball.
"I'm a family man now. I have two step-kids and a 3-year-old son," he said. "Albuquerque is my home. Ever since I came to play at New Mexico, the people and the community have been great. I wanted to come back where it all really took off."
Coaching Dreams
After Giddens hangs up his jersey, short and shoes, he still wants to be a part of the game that has been a huge part of his life the past 20-plus years.
"I want to coach at New Mexico and become the ultimate Lobo. I'd like to start out with player development. I've evolved as a person through my faith," he said. "I did some crazy things when I was younger, but I want to build kids and develop them on and off the court."
Giddens said he want to get to know what makes a kid tick, what makes them better "whether we're talking about a star player, a role player or an end-of-the-bench, end-of-the-roster kid."
Michael Jordan, Kobe Bryant or LeBron James?
"When I grew up, I was Kobe. I got the tattoo and I was balls to the walls. I used to be one of those guys who pushed through the pain, didn't show I was hurt and would get mad when other players didn't do their jobs," Giddens said. "As I got older, I want to be more like Scottie (Pippen) or LeBron. I'd rather be a great teammate, a great leader. It's a new era, a new time. We have to treat each other better."
Thanks to J.R. Giddens for taking time to sit down for an hour-long phone call and share his stories, achievements, missteps and future aspirations as his life and career have come full-circle from a high school kid, college recruit, standout athlete, NBA player, overseas baller, family man and potential coach at his alma mater while bringing others upward and along for the ride of their lives.
Be the first to know
Get local news delivered to your inbox!