ELKO — Ask anyone who knows team roping, and they would tell you that Dustin Egusquiza has more offense than just about anyone in the game and Travis Graves has heeled feet at a high level for a very long time.
Each chasing their first world titles, Egusquiza and Graves took a big step Saturday night — albeit still a long way from the finish line.
After setting a Round-2 record with a 3.8-second run — on a two-foot longer score and in a larger arena than the Thomas & Mack — the team reared back and unleashed another ferocious run in Round 3 on Saturday night, at Globe Life Field, in Arlington, Texas.
They claimed their second straight victory, stopping the clock in 4.2 seconds and padding their leads in the world standings.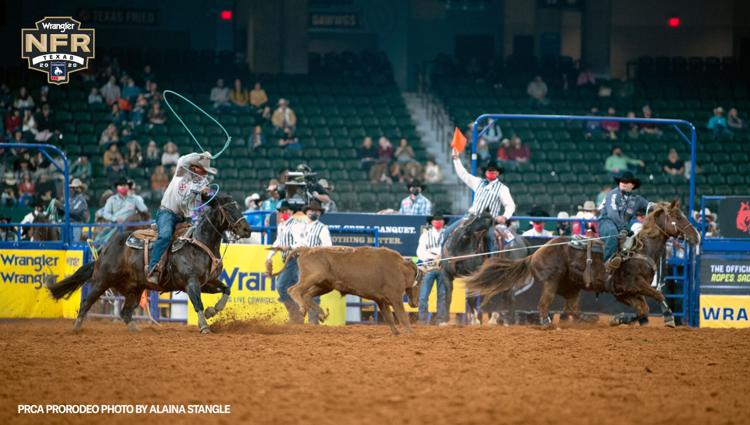 "I was riding a horse I call Jack. I bought him about a month ago, and he is really easy in these setups, pulls good, faces good, leaves flat and gives me a spot to throw." Egusquiza said. "This is our first big rodeo, actually. I bought him from Tyler Oliver and started liking him more and more. I took him a few times to the Fort Worth Stockyards, but this is his first time on a big stage. I didn't know what I was going to ride, and I had a few options, but for the last couple of weeks he feels the best."
With another $26,231 of points to add to their pots, Egusquiza climbed to $144,829.89 for the year — Luke Brown currently second in the heading standings with $128,857.29 in earnings.
"I'm having a great time and hope it stays the same. We had a good start the first two rounds and that's good for your confidence," said Egusquiza.
Graves' lead is now more than a full go-round as he has $137,167.86 and is $27,676.55 ahead of second-place Joseph Harrison ($109,491.31).
"I was riding Chip, a horse I've had for three years now, and he really fits me," Graves said. "It's awesome to win a round at the NFR, let alone come back and do it again. We've been practicing a lot, and it's fun to come out here and do it in competition."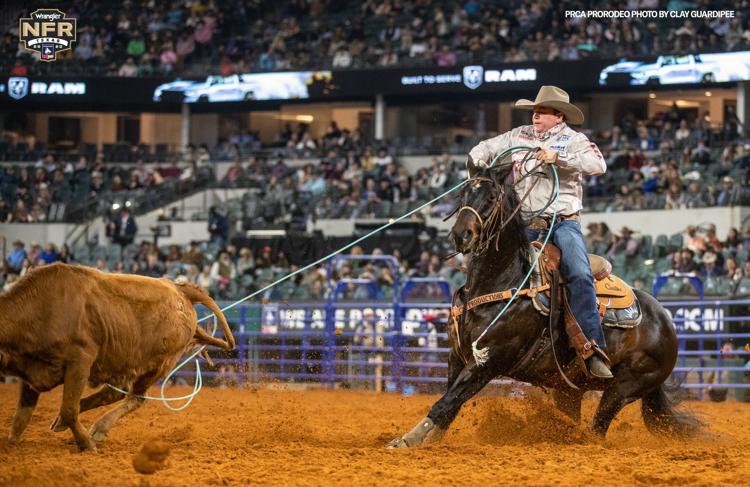 Egusquiza and Graves also lead the average by nearly six seconds with a three-steer total of 12.9 seconds, Brown and Harrison ranking second with a three-steer time of 18.7 seconds.
Kaycee Feild
For many years, Genola, Utah, cowboy Kaycee Feild — a four-time, consecutive world champion (2001-2014) — seemed to be on an unstoppable course, poised to shatter every bareback record known to man.
However, injuries — primarily, a brain injury — derailed may of his plans.
Prior to Saturday, Feild had not won a round at the WNFR since Round 9 in 2015 — the year the last time his Hall Of Fame father, Lewis Feild, saw him ride during a Wrangler National Finals Rodeo.
Lewis Feild was a five-time world champion, winning three-consecutive All-Around titles from 1985 through 1987 and back-to-back bareback gold buckles in '85 and '86.
He passed away in 2016 due to pancreatic cancer.
Kaycee's drought was broken on Calgary Stampede's "Xplosive Skies," charging his way to his first round victory in nearly five-whole years and tying the Round-3 record in the process.
"I had a heater there for a few years and winning was something easy," Kaycee said. "It came so natural. I had the best coach in the world. Before I got on every horse, I would ask, 'What do I do tonight, Dad?' He would tell me to have a 'strong mark out and have fun.' That's all that matters. The past few years not having my dad around I had to figure out how to find some drive and stay focused when I get here. I feel like I have figured it out and tunneled it back in and feel my dad all the time."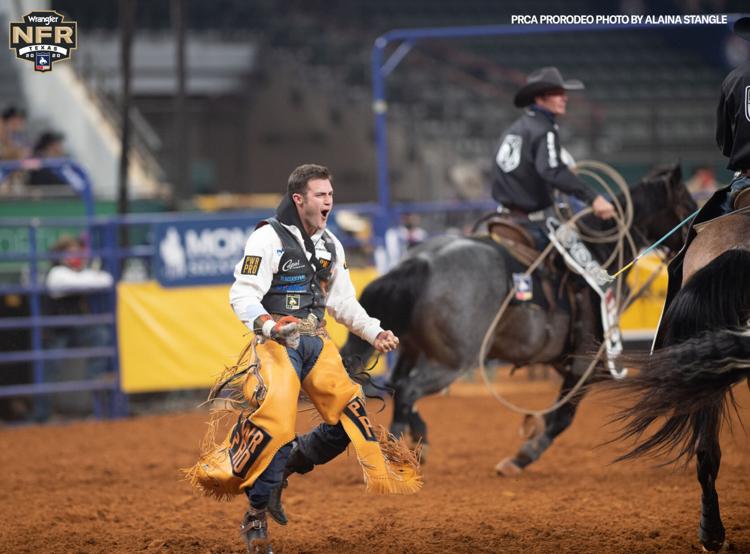 With a 91.5-point score, Feild obliterated the "field" by 3.5 points — matching the previous Round-3 records of Justin McDaniel (2007) and Tim O'Connell (2017).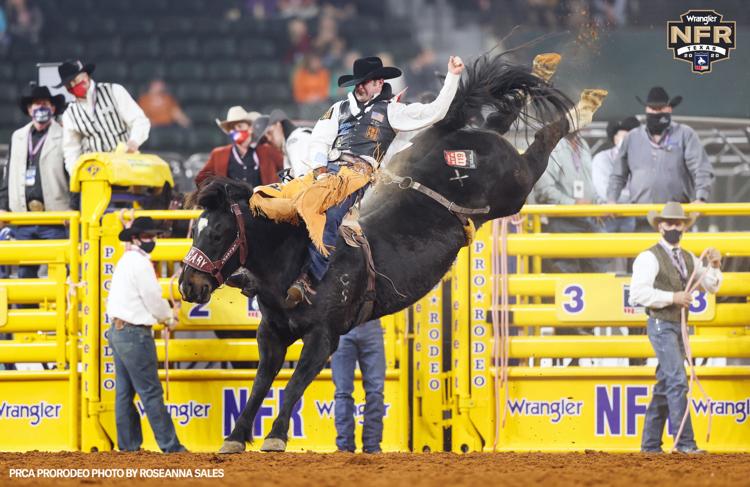 "With the caliber of horses they had tonight (Saturday), you had to have it perfect with your timing, you have to get it going right there," said Feild. "With that horse a lot is happening, and it is happening really fast. My main goal was to keep on gassing it and give it all I had. I rode 10 seconds through the whistle, and it paid off, that was a fun one."
As for O'Connell, the three-time world champion (2016-2018), he now finds himself in a dogfight with Feild for the 2020 gold buckle as O'Connell searches for his fourth title and Feild attempts to tie the record with his fifth world championship and match the number set by Joe Alexander — who booked five straight titles from 1971 through 1975.
Feild cut into the lead but is still second in PRCA world standings with $146,917. O'Connell is atop the standings with $148,722.
A big factor in the overall outcome often boils down to the average, and Feild is currently in the lead with a score of 259.5 points on three horses — O'Connell currently in seventh with a three-round total of 250 points.
Colten Fritzlan
In his first WNFR, Colten Fritzlan is making a splash.
The 20-year-old from Rifle, Colorado, will not soon forget about his Round-3 experience.
Not only did he win the go-round with an 89-point ride on Bar T Rodeo's "Angel's Landing," Fritzlan also benefited greatly from a stellar pen of bulls up-and-down the performance.
"I knew a little bit about him, I'd seen a little bit of video and seen him once before in person, so I knew he was going to suck back around the corner and looked like he was going to ride like a Cadillac after that, and he sure did," Fritzlan said.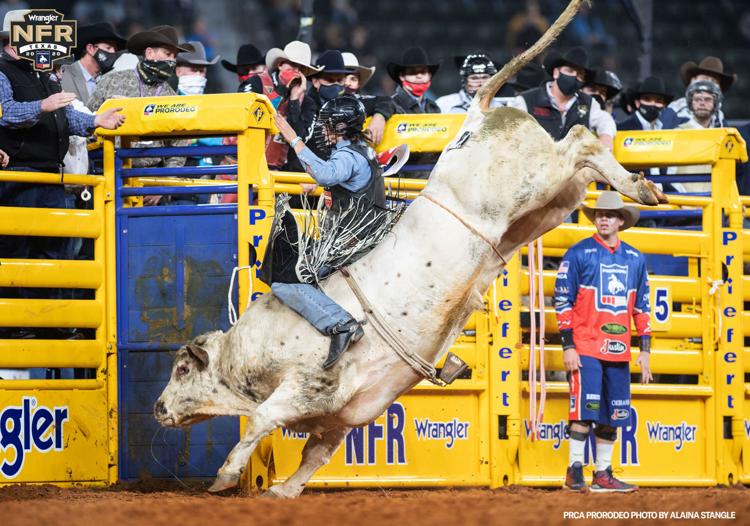 Fritzlan was one of just two cowboys to notch qualified rides — joined by Ty Wallace's 88.5 on Cervi Championship Rodeo's "Yellowstone" — so he and Wallace split the remaining-four paychecks.
The payday for Fritzlan jumped from $26,231 to a whopping $45,058 and moved him into second in the world standings with $124,466.12.
"It gives you an extra boost of confidence and momentum, and it's just the start, but I plan on doing my job every single day and letting the chips fall where they may," he said.
Ky Hamilton is No. 1 in the world standings with $132,023.47.
Fritzlan is second in the average with 175.5 points on two bulls, and he is currently behind the 179-point, two-bull total of Stetson Wright — who won each of the first-two rounds — Hamilton ranking third in the average with a mark of 171.5 points on two rides.
Cory Solomon
The 2019 and 2020 seasons have been roller-coaster rides for six-time WNFR tie-down roper Cory Solomon (2011-2012, 2015-2018).
In 2019, he battled injuries and illness himself and injuries to his horses.
During the 2020 season, he finished just outside the top-15 and was looking in at the WNFR qualifiers.
However, when Caleb Smidt — a two-time world champ and two WNFR average champion (2015, 2018) — tested positive for COVID-19, Solomon was called in as Smidt's replacement.
Through three calves, Solomon has taken advantage of Smidt's misfortune and his own fortuitous chance during his seventh WNFR.
"The first round I didn't know how to feel. My heart goes out to Caleb and his family. He worked hard to get here like all the other contestants. At the same time, God has other plans, and I had to accept his blessing with a joyful heart," Solomon said. "I made up my mind today (Saturday) that I'm going to rope for him all week. I don't know the history of any calves and I hadn't roped in the building like everyone else. I backed into the box and did what I've worked for my whole life."
He split fifth in the first round and captured the Round-3 win on Saturday night with a gorgeous run of 7.0 seconds — doing the bulk of his damage on the ground.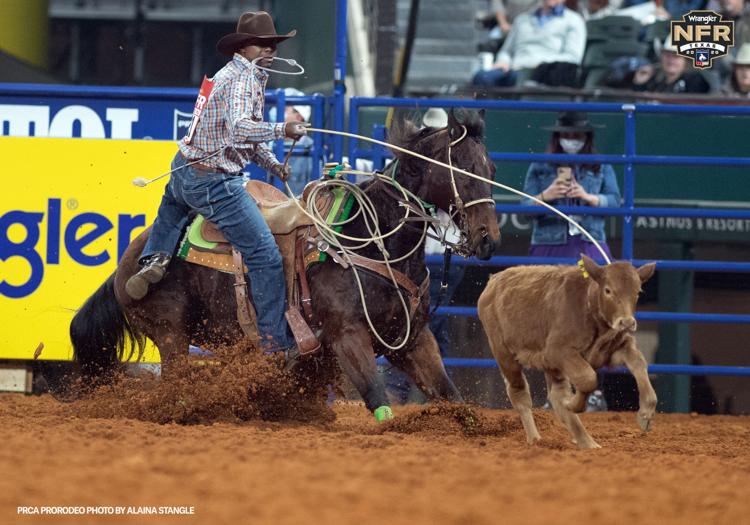 "It was all God," said Solomon. "I wasn't supposed to be here. I've been trying to do what God's called me to do, which I didn't know it would be rodeoing here this week."
Solomon took three swings — going farther down the arena than some of his competitors — made sure he caught his calf, stayed in his stirrup long enough to set up his run, double-grabbed his slack and turned the calf to the inside.
From there, it was just like tying from the post in the practice pen.
Solomon made a strong flank and spun on his typically-fast tie.
"This is a big stage of rodeo, and we all want to do well here," he said. "I've put too much pressure on myself here over the years of trying to prove I was one of the best on the big stage. Everybody is watching, it pays the most and I've overrun myself. I haven't practiced since before the season ended. So, God has just worked on my mind and got me ready for this stage."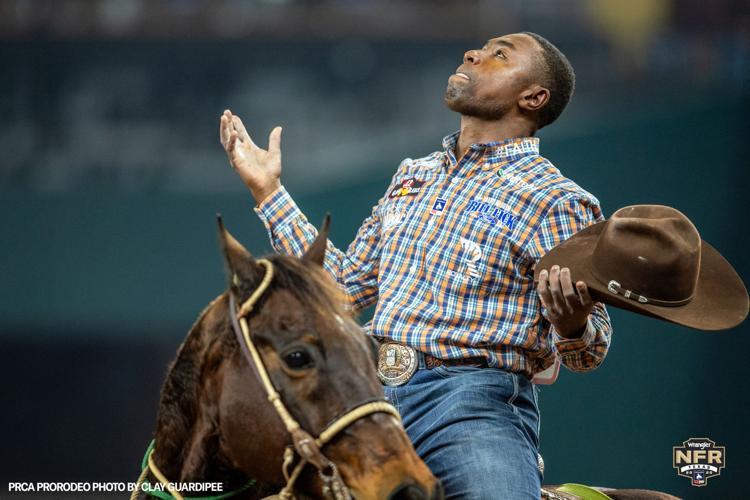 With the run, Solomon took control of the average lead with a three-calf time of 23.8 seconds — Shane Hanchey placing second with a three-round tally of 24.4 seconds.
Allen Boore
Axtell, Utah, saddle bronc rider Allen Boore had two disappointing outings on his first-two horses at the Wrangler National Finals — bucking off his first bronc and scoring 78 points on the second.
Scratch that, scratch hair on his third bucker.
On Saturday, Dec. 5, 2020, Boore turned the tables, the leaderboard and the record books on their heads in Round 3.
Boore, drawing Calgary Stampede's "Yesterdays Delivery," delivered a ride for the ages in the eliminator pen — eliminating his slow start and the competition.
"For me, it was watch the video of what happened," he said. "Find out what little mistakes I made and just forget about it and move on and take today like a brand-new start."
Not only did he win the go-round, Boore set a Round-3 record with a 90.5-point ride and pocketed $23,231 in points.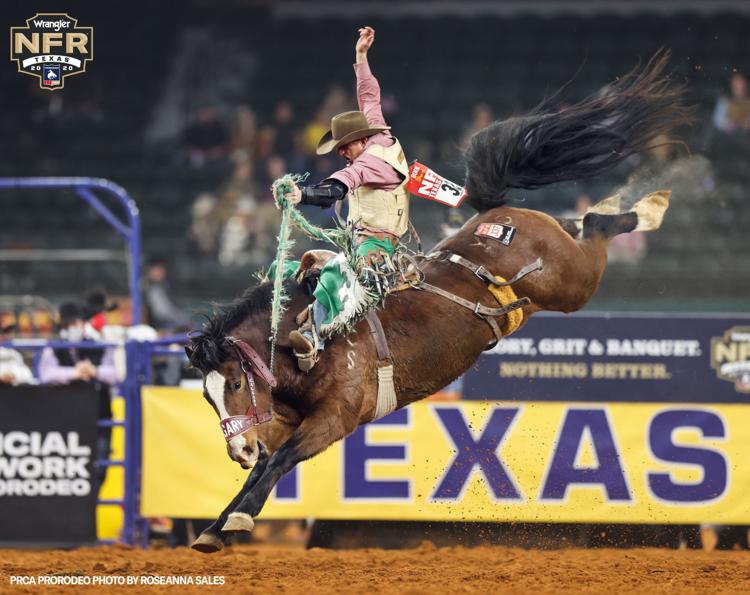 "Ever since I've been rodeoing, one of the stepping-stones to being a world champion is winning when it counts," Boore said. "I didn't know about that (setting the Round 3 record) until just now. It's awesome to have your name rolling for round No. 3."
The previous Round-3 record of 90 points was shared by three cowboys and set four times: ProRodeo Hall of Famer Billy Etbauer (1995 and 2005), Isaac Diaz (2018) and Chase Brooks (2019).
For Boore, the victory also marked the first time he had ever won a round at the WNFR, placing four times and finishing second in Round 5 at the 2016 WNFR — the last time he qualified for the "Super Bowl" of rodeo.
"The last three years I haven't made the Finals and just kind of know you can do it but wasn't able to get it done," Boore said. "This winter, I was able to pick up and ride the way I wanted, drew good at the good rodeos down here in Texas and got a jump-start on the year and then just carried it the rest of the way through the season. Makes it a lot easier and more fun when you're winning."
Will Lummus
The momentum of steer wrestler Will Lummus actually began in Round 2 — notching a third-place finish — and he upped the ante on Saturday night.
In Round 3 — a super-fast round of bull dogging — Lummus was one of the final competitors of the night, and he knew exactly what he needed to do.
"KC (Jones, Lummus' hazer and seven-time NFR qualifier) has helped me so much with my career. He taught me how to win, when to take chances and when to play it safe," he said. "When I looked up at the leaderboard and saw that a 3.9 was sixth, I knew it was time to take a chance."
Take a chance he did, pay off it did.
Lummus knocked the pin out of the barrier and blitzed through his steer in 3.5 seconds, besting a pair of 3.6s from Jacob Talley and Bridger Anderson (Round 2 co-champion).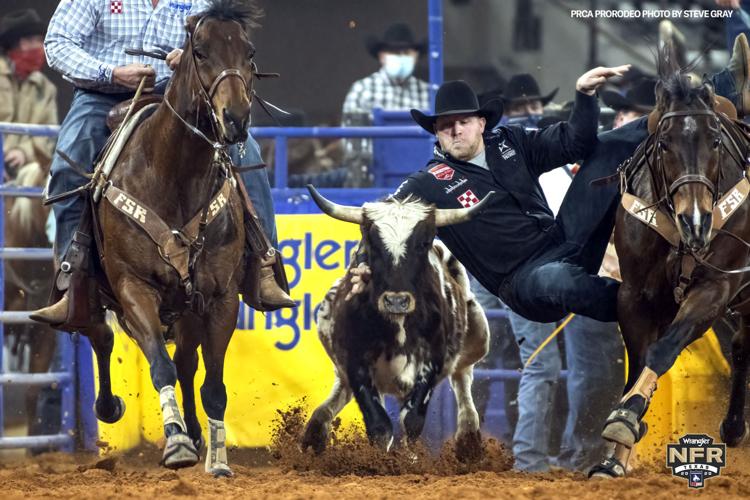 "It was a great set of steers, super — all three sets. Last night's (Friday's) were probably our toughest. This set tonight (Saturday), I felt they were so even," Lummus said. "Guys are all taking the same starts, getting great starts. It's whoever can get their hands on them the fastest. I think it's a horsepower game, and I'm riding a good horse."
Lummus rides Jones' bay horse, Grinder.
The victory catapulted Lummus to third in world standings with $92,164.01.
Lisa Lockhart
Last on the ground? No sweat.
For the first time in forever, the ground for the barrel racing is drug by the tractor midway through the performance.
However, Lisa Lockhart's draw of eighth-out did not look ideal — the final competitor before the groundwork.
Despite the disadvantage, Lockhart and her buckskin horse, Rosa, defied the odds — winning the event by more than a full-tenth of a second — firing around the standard-sized pattern in 17.09 seconds.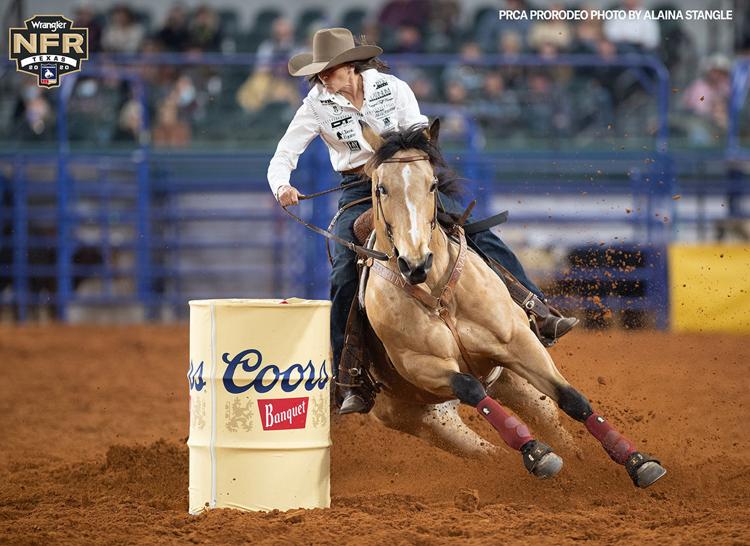 "Rosa's very fast, she's extremely fast. She is just very reactive to everything, so timing is impeccable, so it's very hard as a rider sometimes to have that timing and to time everything perfectly," Lockhart said. "I think that's the most difficult part, but she loves her job and can run so fast. It's an absolute blast. Anytime you can be in any winner's circle — let alone here at the NFR — it's hard to explain. It's awesome."
Dakota Eldridge
Elko's Dakota Eldridge — who entered Round 3 in second place of the steer wrestling world standings — fell to fourth after a lightning-fast set of times.
In a pen full of great steers, Eldridge drew one of the fastest — if not the fastest — steers of the night on Saturday.
However, he was mistake-free.
Despite being a tick of the barrier and chasing his steer farther down the arena, Eldridge made a smooth run and finished with a time of 4.4 seconds, placing 10th in the round.
Although he did not earn a check in Round 3, Eldridge went from second place to first in the average with a three-head tally of 12.6 seconds.
Tyler Waguespack — the Round 2 champion — led the average after Round 2 with a total time of 8.1 seconds but broke the barrier Saturday night for a time of 14-fat and fell to eighth in the average with a three-steer time of 22.1 seconds.
Eldridge is fourth in the world standings with $89,841.16 and $12,603.07 behind No. 1 Matt Reeves' $102,444.23.
Already a two-time WNFR champion (2015, 2017), Eldridge could earn another $67,269.23 if he could lock down his third average crown.
The first reruns on the three pens of steers will take place Sunday night in Round 4, so the cowboys will have a better read of their respective draws.
Jade Corkill
Three-time world champion heeler Jade Corkill's 2020 WNFR has been a rocky road, thus far.
After starting the week well with a fourth-place finish in Round 1, Corkill missed his second steer for back-to-back world champion header Clay Smith.
In Round 3, Corkill roped a leg for a five-second penalty — lucky to keep a leg behind a wild handle.
Smith had too much slack between his horse and the steer, providing a wicked whip through the corner and then giving the steer's head back to him — the animal going from having his butt to the right and head to the left, to having his hind end to the left and his horns down the arena.
With a total time of 9.4 seconds, Smith and Corkill still managed to place seventh in the round — albeit one spot out of the money behind a sixth-place 5.5 by Jeff Flenniken and Tyler Worley.
Smith and Corkill are currently ninth in the average with a two-steer time of 14.2 seconds and have to start making hay in the go-rounds, starting first and foremost in Round 4.
Lefty Holman
Visalia, California, saddle bronc rider Lefty Holman — Eldridge's nephew by marriage and the great-nephew of 1978 world champion bronc rider Joe Marvel — made some noise on his first-two broncs, winning Round 1 with a score of 86 and notching 84.5 points in Round 2.
However, the eliminator pen got the best of Holman in Round 3.
Aboard Frontier Rodeo's "Miss Ellie," Holman had a deep seat and appeared to in full control of his ride until the seven-second mark.
Unfortunately, the bronc riding is an eight-second event.
Near the end of the ride, the big, strong, bay mare made a turn to the left and fired hard — pitching Holman to the inside and into his rein hand.
In Round 4, Holman has drawn "2 Cookies" of Cervi Brothers.
For the 2020 season, the horse has yielded an average stock score of 41.64 points for a total score of 83.43 points, 41.79 points of which come generally come from the cowboys.
With the buck-off, Holman fell to ninth in the average with a two-horse total of 170.5 points.
Round 3 Results
1. Kaycee Feild, 91.5 points on Calgary Stampede's Xplosive Skies, $26,231
2. Leighton Berry, 88.0, $20,731
3. Richmond Champion, 87.5, $15,654
4. Jess Pope, 86, $11,000
5. Cole Reiner, 84.5, $6,769
6. Mason Clements, 83.0, $4,231
12. Chad Rutherford, 66.5
13. (tie) Jamie Howlett, Jake Brown, Ty Breuer and Winn Ratliff, NS
1. Will Lummus, 3.5 seconds, $26,231
2. (tie) Jacob Talley and Bridger Anderson, 3.6, $18,192 each
4. Stetson Jorgensen, 3.7, $11,000
5. (tie) Matt Reeves and Jacob Edler, 3.8, $5,500 each
7. (tie) Curtis Cassidy and Blake Knowles, 3.9 each
13. Clayton Hass, Texas, 13.3
14. Tyler Waguespack, 14.0
1. Dustin Egusquiza/Travis Graves, 4.2 seconds, $26,231
2. Andrew Ward/Buddy Hawkins II, 4.3, $20,731
3. Levi Simpson/Shay Dixon Carroll, 4.4, $15,654
4. Luke Brown/Joseph Harrison, 4.5, $11,000
5. Chad Masters/Wesley Thorp, 5.0, $6,769
6. Jeff Flenniken/Tyler Worley, 5.5, $4,231
7. Clay Smith/Jade Corkill, 9.4
8. Erich Rogers/Paden Bray, 10.1
9. Nelson Wyatt/Levi Lord, 10.9
10. Charly Crawford/Logan Medlin, 14.7
11. (tie) Cody Snow/Junior Nogueira, Colby Lovell/Paul Eaves, Clay Tryan/Jake Long, Kolton Schmidt/Hunter Koch and Brenten Hall/Chase Tryan, NT
1. Allen Boore, 90.5 points on Calgary Stampede's Yesterdays Delivery, $26,231
2. Wyatt Casper, 87.5, $20,731
3. Chase Brooks, 86.5, $15,654
4. Isaac Diaz, 85.5, $11,000
5. (tie) Ryder Wright and Shorty Garrett, 84.5, $5,500 each
9. (tie) Stetson Dell Wright, Brody Cress, Rusty Wright, Lefty Holman, Cole Elshere, Zeke Thurston and Taos Muncy, NS
1. Cory Solomon, Prairie View, Texas, 7.0 seconds, $26,231
2. (tie) Tyson Durfey and Hunter Herrin, 7.3, $18,192 each
4. Shane Hanchey, 7.4, $11,000
5. Adam Gray, 7.8, $6,769
6. Westyn Hughes, 8.1, $4,231
7. (tie) Ty Harris and Caddo Lewallen, 8.4 each
1. Lisa Lockhart, 17.09 seconds, $26,231
2. Brittany Pozzi Tonozzi, 17.21, $20,731
3. Shelley Morgan, 17.22, $15,654
4. Cheyenne Wimberley, 17.24, $11,000
5. Stevi Hillman, 17.26, $6,769
6. Brittney Barnett, 17.33, $4,231
9. (tie) Jessica Routier and Emily Miller, 17.43 each
14. Jessica Telford, 17.90
15. Tiany Schuster, 17.91
1. Colten Fritzlan, 89.0 points on Bar T Rodeo's Angel's Landing, $45,058
2. Ty Wallace, 88.5, $39,558
3. (tie) Stetson Dell Wright, Sage Kimzey, Brady Portenier, Ky Hamilton, Dustin Boquet, Roscoe Jarboe, Denton Fugate, Jeff Askey, Boudreaux Campbell, Tyler Bingham, Parker McCown, Trevor Kastner and Clayton Sellars, NS
World Standings
1. Tim O'Connell, $148,722
2. Kaycee Feild, $146,917
3. Richmond Champion, $116,034
4. Leighton Berry, $99,911
7. Mason Clements, $90,924
8. Clayton Biglow, $89,858
10. Tilden Hooper, $87,549
12. Jamie Howlett, $76,583
14. Chad Rutherford, $51,643
15. Winn Ratliff, $49,743
2. Bridger Anderson, $95,550
4. Dakota Eldridge, $89,841
6. Tyler Waguespack, $86,159
7. Stetson Jorgensen, $75,927
8. Blake Knowles, $73,355
11. Curtis Cassidy, $68,932
13. Tanner Brunner, $56,885
14. Clayton Hass, $56,071
1. Dustin Egusquiza, $144,830
10. Levi Simpson, $76,052
11. Charly Crawford, $69,460
13. Brenten Hall, $63,914
14. Jeff Flenniken, $63,622
15. Kolton Schmidt, $61,022
1. Travis Graves, $137,168
2. Joseph Harrison, $109,491
3. Buddy Hawkins II, $101,372
7. Shay Dixon, Carroll $81,921
11. Junior Nogueira, $72,315
12. Logan Medlin, $68,852
13. Tyler Worley, $65,368
1. Wyatt Casper, $207,600
2. Ryder Wright, $168,721
5. Shorty Garrett, $105,505
10. Sterling Crawley, $68,378
11. Cole Elshere, $64,351
12. Jacobs Crawley, $60,930
13. Zeke Thurston, $60,523
14. Stetson Dell Wright, $57,498
1. Shad Mayfield, $187,399
4. Westyn Hughes, $89,006
8. Shane Hanchey, $82,184
11. Tyler Milligan, $75,149
12. Hunter Herrin, $74,242
13. Caddo Lewallen, $68,141
16. Ryan Jarrett, $62,080
1. Hailey Kinsel, $135,422
2. Brittany Pozzi Tonozzi, $133,109
3. Jimmie Smith, $101,253
4. Shelley Morgan, $98,613
5. Tiany Schuster, $96,791
6. Lisa Lockhart, $83,904
7. Stevi Hillman, $80,158
8. Cheyenne Wimberley, $79,039
9. Dona Kay Rule, $77,454
11. Jessica Routier, $61,371
12. Brittney Barnett, $53,796
13. Ryann Pedone, $52,581
14. Emily Miller, $52,388
15. Wenda Johnson, $49,953
16. Jessica Telford, $48,477
2. Colten Fritzlan, $124,466
3. Stetson Dell Wright, $123,953
6. Boudreaux Campbell, $95,746
7. Roscoe Jarboe, $92,994
8. Dustin Boquet, $91,566
9. Brady Portenier, $83,105
10. Tyler Bingham, $82,058
11. Trevor Kastner, $80,935
13. Parker McCown, $73,177
14. Clayton Sellars, $70,164
15. Denton Fugate, $62,236
Average Leaders
1. Kaycee Feild, 259.5 points on three head
2. Richmond Champion, 257.5
3. (tie) Jess Pope and Cole Reiner, 255.5 each
12. Jamie Howlett, 155.5 points on two head
15. Jake Brown, 83 points on one head
1. Dakota Eldridge, 12.6 seconds on three head
2. Stetson Jorgensen, 12.7
4. Bridger Anderson, 13.1
8. Tyler Waguespack, 22.1
13. Curtis Cassidy, 8.2 seconds on two head
1. Dustin Egusquiza/Travis Graves, 12.9 seconds on three head
2. Luke Brown/Joseph Harrison, 18.7
3. Nelson Wyatt/Levi Lord, 22.2
4. Jeff Flenniken/Tyler Worley, 22.4
5. Erich Rogers/Paden Bray, 25.5
6. Andrew Ward/Buddy Hawkins II, 9.2 seconds on two head
7. Chad Masters/Wesley Thorp, 9.7
8. Levi Simpson/Shay Dixon Carroll, 10.5
9. Clay Smith/Jade Corkill, 14.5
10. Charly Crawford/Logan Medlin, 19.7
11. Cody Snow/Junior Nogueira, 20.0
12. Colby Lovell/Paul Eaves, 4.4 seconds on one head
13. Brenten Hall/Chase Tryan, 5.2
14. Clay Tryan/Jake Long, 5.3
15. Kolton Schmidt/Hunter Koch, NT
1. Wyatt Casper, 261.5 points on three head
4. Sterling Crawley, 252.5
8. Rusty Wright, 273 points on two head
13. Brody Cress, 84.5 points on one head
14. Stetson Dell Wright, 84
Tie-Down Roping
1. Cory Solomon, 23.8 seconds on three head
13. Tyson Durfey, 15.3 seconds on two head
1. Hailey Kinsel, 51.90 seconds on three runs
3. Brittany Pozzi Tonozzi, 52.08
4. Cheyenne Wimberley, 52.10
7. Jessica Routier, 52.64
9. Brittney Barnett, 52.72
11. Jessica Telford, 52.98
1. Stetson Dell Wright, 179.0 points on two head
2. Colten Fritzlan, 175.5
5. Ty Wallace, 88.5 points on one head